India won the first ODI by five wickets. West Indies were all out by Ravindra Jadeja for 114 runs. India managed to surpass the easy target after losing five wickets.. More..
Against a team that had no chance at the World Cup, India almost won the way it should have done. West Indies were bowled out for 114 runs by Indian bowling. It was a straightforward goal to reach 115 runs in a 50 over game. India did not want to start the game without Rohit Sharma and Virat Kohli. Opportunities were given to young people. However, despite reaching 115 runs, Rohit ultimately had to concede. In spite of losing five wickets, India won the game.
On Thursday, Rohit won the toss and decided to bowl first. I will bowl first, he declared after winning the toss. There is no specific justification for calling earlier. I want to adopt new perspectives on who I am. We're interested in how our team performs. Before the World Cup, we want to keep our minds free of distractions. Results are additionally crucial.
During this time, several cricketers will be evaluated. Because of this, all I can think about is winning. The best chance to see the team is during the West Indies tour. There is no cricketer in the opposition who can make India worry. The team can be seen against them. The opportunity was there, the opportunity was given. But where could the young batters take advantage of that chance?
India started with a bang. With the new ball, Hardik Pandya and Mukesh Kumar, making his debut, took out opponents. Shardul Thakur scored a run. Out of 45 runs, West Indies lost three wickets. The fact that they wouldn't be able to score many runs was acknowledged. Shimron Hetmyer, who had been absent for a year, and captain Cy Hope were the Caribbean team's only remaining hopes. However, their tandem only scored 43 runs.In the captivating Hetmyer of the IPL, Ravindra Jadeja bowled out for 11 runs. After that, the Caribbean collapsed in batting. Hope scored 43 runs but it was not enough to cover the shame.
Kuldeep bowled three overs and took four wickets. The Indian left-arm spinner's performance before the World Cup will help him secure a spot on the team. Jadeja, on the other hand, claimed three wickets. Kuldeep and Yuzvendra Chahal's partnership was once known as "Kul-Cha." The 'Kul-Ja' duo, who together have developed a spin attack, can now be the Indian team's strength thanks to their spin attack.
Rohit may feel secure knowing that India will have a strong bowling attack against the West Indies even without Jasprit Bumrah, Mohammad Shami, and Mohammad Siraj. But batting! The manner in which Suryakumar Yadav got out while hitting the sweep could be a cause for concern. Surya gets lbw while sweeping the ball from Gudakesh Moti. After being dismissed for three consecutive wickets against Australia at the beginning of the year, it was his first ODI debut for India.Due to injuries, Lokesh Rahul and Shreyas Iyer are not present. Surya was unable to take advantage of the situation there. He was hitting a sweep with one ball and getting lbw. The umpire did not give out. He immediately went for a similar sweep on the next ball. Such a decision is surprising.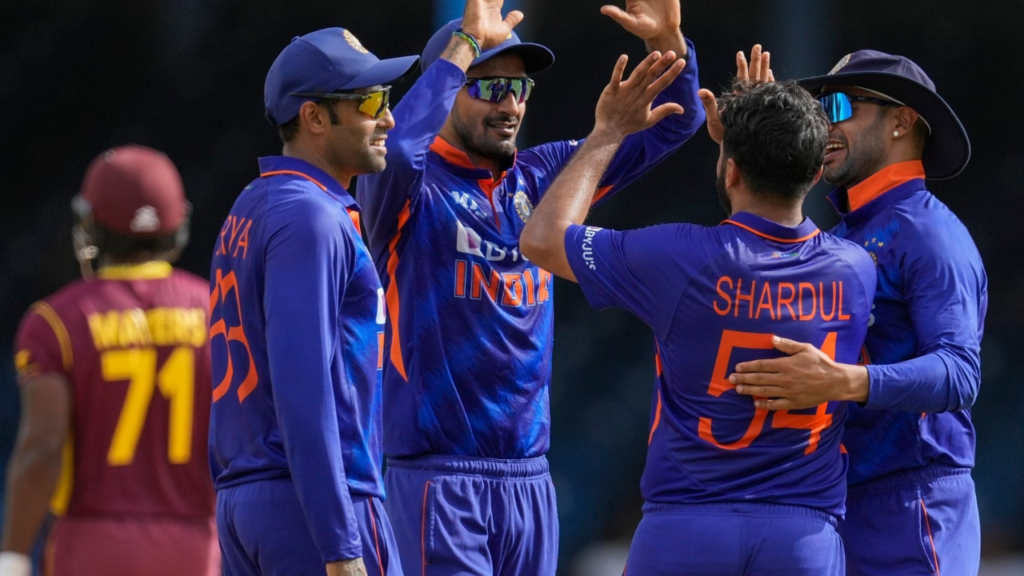 With a target of only 115 runs, Rohit did not open. Shubman sent Gill and Ishaan to Kishan. Ishan scored 52 runs but Shubman was dismissed for just seven runs. He was caught at slip while playing the ball outside the off stump. Virat did not come down to number three. Suryakumar took his place. He disappointed. Hardik Pandya is a victim of bad luck at number four. Bowler Yannick Karia went to catch Ishan's dead ball. could not catch.But the ball hit his hands and broke the wicket towards the non-striker. Hardik tried to return but could not stop the bat on the ground. Got out for just five runs. Opportunity came to Shardul Tagore. But he went down to bat at number five and got out for just one run.
In the end, Rohit had to come down to bat. He and Jadeja finished the match. However, it was not anticipated that India would need to lose five wickets in order to score 115 runs against a team like the West Indies. India scored 115 runs in 22.5 overs. Even with Shubman, Ishan, and Suryakumar who dominated T20 cricket, it was truly not anticipated that India would need to play that many overs.
India will have a test to prove this thought in the next match. The question will be whether West Indies, who failed to qualify for the World Cup, will be able to take any test in this series.